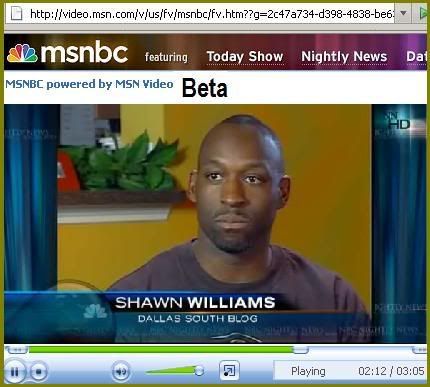 Here's an interview with the AfroSpear's Shawn Williams, Dallas South Blog, that will appear in the Dallas Morning News (largest daily in Dallas) this Saturday.

Like many public events these days, this week's Jena rally came together largely through the efforts of bloggers. One of them was Dallas resident Shawn Williams, 33, who helped spread the word through his Dallas South Blog (www.dallassouthblog.com) .

In an e-mail interview with The Dallas Morning News Friday, the pharmaceutical salesman and member of Friendship-West Baptist Church reflected on his blog and the Jena rally:

The News: Give us the background on the Dallas South Blog. Did you create it? What is its aim?

Mr. Williams: I started Dallas South Blog 15 months ago as a way of expressing myself, but as the site has evolved, the goal is to promote positive images of African-Americans to contrast the negative images put forth daily in the popular press.

The News: Have you been involved in other civil rights movements or protests before?

Mr. Williams: I think the movement is ongoing. Since college I have been aligned with these types of issues in some form or fashion, but most recently I worked to rid our neighborhood of a sexually oriented business that was being built in walking distance of a charter school.

The News: What was your role in this week?s trip to Louisiana?

Mr. Williams: Besides helping to get 1,000 folks that left from our church on the right bus, I was just a participant. I marched, I listened, I shouted, but mostly, I was there in support of the young men who stand accused.

The News: Did you network with other bloggers?

Mr. Williams: I am a member of the Afrosphere Bloggers Association . We had day of Blogging for Justice on August 30th, where many of us blogged about Jena at the same time.

The News: How will Thursday's event advance the civil rights movement?

Mr. Williams: No one can answer that. I am hopeful that the African-American community will commit to seeking justice and equality for the long hall. Cases like this happen all over the United States. We must use this energy to highlight injustice and to take responsibility for our own community and our own future.