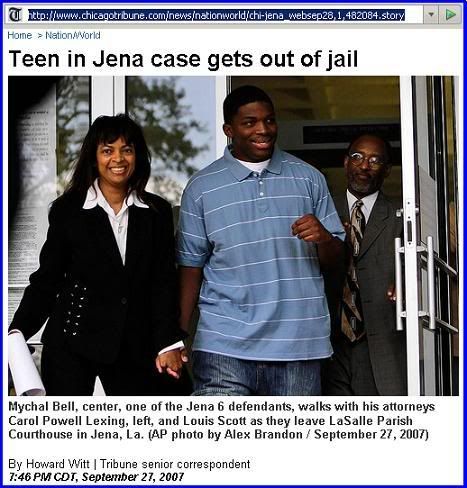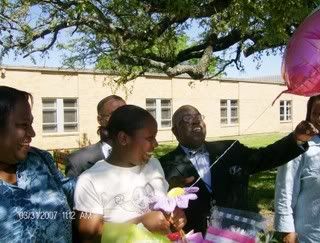 Almost like
Shaquanda Cotton
, Mychal D. Bell has been freed from prison after an immense outcry by the AfroSpear, denouncing a system of injustice that systematically treats Black children much more harshly than it does whites.
But, we cannot even say that Bell is "free," because, even though he has already spent nine months in prison for a alleged involvement in a schoolyard fight, he still faces juvenile court charges that could put him behind bars for an additional three years, until he is 21.
And, as Chicago Tribune's correspondent Howard Witt informs us below, there are still five other Jena Six defendants whose criminal and juvenile trials have yet to begin, who have not yet been tried and convicted by an all-white jury, as Bell was. But, that's what they face and the AfroSpear faces it with them.
Most white Jena youths who attacked a Black student with a broken bottle (potentially assault with a dangerous weapon or even attempted murder), bloodying him, were not charged at all, while the one who was charged was immediately freed and placed on probation.
The struggle in this case is not over. In fact, it's just beginning. As the AfroSpear said in a press release on Setember 15,
We will insist that ALL ADULT AND JUVENILE CHARGES AGAINST ALL 6 DEFENDANTS be dropped now and foreclosed for the future, and that de jure and de facto segregation be ended at Jena High School.

"Afrosphere bloggers and our audiences will continue to assert our role as forceful advocates of equal justice for Blacks in the American justice system." AfroSpear: Let the World Know that the March Goes On.
Here are the details of Mychal Bell's release, from Howard Witt:
By Howard Witt

Chicago Tribune Senior Correspondent

7:46 PM CDT, September 27, 2007

HOUSTON

Mychal Bell, the black teenager whose incarceration in a racially explosive case helped draw tens of thousands of civil rights protesters to the tiny Deep South town of Jena, La., last week, was released from jail on Thursday after more than nine months behind bars.

Bell, 17, one of six black teenagers charged with the beating of a white classmate at Jena High School last December, was freed after a local judge abruptly set a bond of $45,000, which a local bail bonding firm quickly posted on Bell's behalf.

The youth's release capped a day of mounting political and judicial pressures in a case that has drawn condemnation from scores of national civil rights leaders concerned about perceived inequalities in the town's justice system.

"We still have mountains to climb, but at least this is closer to an even playing field," said Rev. Al Sharpton, who helped organize last week's massive protest and accompanied Bell as he walked out of jail. "He goes home because a lot of people left their home and stood up for him."

In Washington, the Congressional Black Caucus asked the U.S. Justice Department to investigate possible civil rights violations and prosecutorial misconduct in the Jena 6 case.

"This shocking case has focused national and international attention on what appears to be an unbelievable example of the separate and unequal justice that was once commonplace in the Deep South," the group of 43 lawmakers said in a letter to Acting Atty. Gen. Peter Keisler.

A Justice Department spokesman said investigations into the case were ongoing but declined to comment further.

Meanwhile, the Louisiana district attorney whose prosecution of the Jena 6 defendants sparked the civil rights protest declared that only through the intervention of Jesus Christ was Jena spared from a "disaster" last week when more than 20,000 African American demonstrators marched peacefully through the town.

"I firmly believe that had it not been for the direct intervention of the Lord Jesus Christ last Thursday, a disaster would have happened," LaSalle Parish District Atty. Reed Walters told a nationally televised press conference.

When a black Jena pastor attending the press conference called it a "shame" that the prosecutor was crediting divine intervention for the orderly behavior of the demonstrators, Walters, who is white, said: "What I'm saying is, the Lord Jesus Christ put his influence on those people, and they responded accordingly."

The six-hour march on Sept. 20 drew families from across the nation who rode buses for hours to protest perceived racial discrimination in the mostly-white town of 3,000 people. The demonstration was completely nonviolent; state and local authorities confirmed that they made no arrests and received no reports of property damage.

Walters insisted that he had treated all of the Jena 6 defendants "fairly and with dignity" but said he would not relent in his prosecution of the youths for aggravated second-degree battery in the beating of Justin Barker, a 17-year-old white classmate.

The attack on Barker followed months of racial unrest in the town sparked after three white students hung nooses from a tree at the high school in an apparent warning aimed at black students not to try to sit beneath its shade. In a series of ensuing racial fights both on and off the campus, white students who attacked black students were charged with misdemeanors or not at all, but the six black youths who jumped Barker and knocked him briefly unconscious were initially charged by Walters with attempted murder.

Bell was the first of the teenagers to go to trial. One of the remaining five has been charged as a juvenile, three others await trial as adults and one youth has yet to be arraigned.

Walters said Thursday he had not been swayed by the demonstrators or the attention the case has attracted. But his prosecution of the case has not been smooth.

On the eve of Bell's trial in June, as national scrutiny mounted after a Tribune report about the case in May, Walters abruptly reduced the attempted-murder charges to aggravated second-degree battery and conspiracy. He won a conviction before an all-white jury after Bell's original court-appointed defense attorney called no witnesses and presented no defense.

But the appellate court vacated that conviction on Sept. 14, ruling that both Walters and LaSalle Parish District Judge J.P. Mauffray had erred in allowing Bell to be prosecuted as an adult rather than a juvenile.

Walters confirmed Thursday that he had decided not to go through with an appeal of the appellate decision and would instead refile the charges against Bell in juvenile court. That decision cleared the way for Bell's release on bond after Mauffray, who last week refused to set bail for Bell, quickly set the new bond just hours before the appellate court was expected to rule on a defense request that Mauffray be compelled to release Bell.

Had he been convicted as an adult, Bell could have faced up to 15 years in prison. If convicted as a juvenile, he can be held until he turns 21.

Walters' decision not to press for Bell's prosecution as an adult followed an intervention by Louisiana Gov. Kathleen Blanco, who had declined for months to get directly involved in the Jena case.

On Wednesday evening, Blanco emerged from a meeting with Sharpton in Baton Rouge, declaring to the protesters who had marched through Jena that "I share your concerns."

Blanco added: "The Louisiana justice system is designed to correct itself when necessary...The juvenile court system is where this case belongs."

One of Bell's new defense attorneys, Robert Noel, said he was certain that political pressures were having an effect on the case.

"The tide has been turning since we won that [reversal] on Sept. 14," Noel said. "I think Walters is under tremendous pressure. There's not a single district attorney in the state that doesn't want to see this whole thing go away. They are concerned about jury nullification in their own cases--they don't want the system to be seen as so unfair that potential jurors are not going to be willing vote guilty."

hwitt@tribune.com